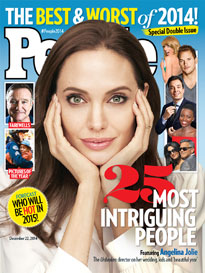 Have you tried reading People Magazine ? It's a popular international celebrity magazine which features not only Hollywood celebrities but also the most "compelling", or moving and influential persons in the world. Because of its spot-on personal interviews and editorial highlights featuring real-life heroes, it's not surprising that this magazine is loved by millions of its subscribers.
This coming
December 19, 2014, 10:00am (9:00am JKT/BKK)
RTL CBS Entertainment HD will air the inaugural The PEOPLE Magazine Awards LIVE VIA SATELLITE . The two-hour star-studded special will include appearances by the world's top celebrities including Jennifer Aniston, Kevin Hart, Kate Hudson, Michael Keaton and Jennifer Lopez, among others. The ceremonies will include performances from 5 Seconds of Summer and Maroon 5.
PEOPLE Magazine
is the world's most popular magazine and celebrity brand reaching more than 59 million consumers each week. The PEOPLE Magazine Awards is a celebration and recognition of the year's most influential and talked-about people in pop culture, celebrity and Hollywood that have fuelled the conversations around the world.
Click FULL PRESS RELEASE HERE.